Before I wind my way west to Shropshire (where we stayed in week 2), just a quick mention for the Titles Bookshops. There's a few dotted around the Peak District, but the one we visited was in North Parade in Matlock Bath. I picked up Christopher Somerville's intriguing Never Eat Shredded Wheat in paperback for a bargain price (highly recommended if you want a light-hearted informative romp around the UK. I guarantee there will be stuff in there you didn't know).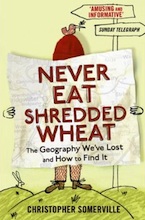 ConstructoBoy, who likes to follow up his fiction interests with non-fiction, bought a book on handguns (because certain types are mentioned in Indiana Jones stories and he wanted to know about them. That's what got him into tanks, too).
The Titles Bookshop there wasn't huge but there was a good smattering of bargain and local interest books, together with helpful cheery staff. What more could you ask for?
For the second week of our holiday we abandoned the Peaks, collected my Mum then headed for Shropshire – swapping one set of hills for another (we obviously had a desire for hills – that's what happens when you've moved to somewhere flat, y'know!) One of the bookshops we found there was Aardvark Books in the tiny village of Brampton Bryan, just off the A4113 Leintwardine-Lingen road.
Once again, a huuuge selection of books in a converted barn – and a place to enjoy some refreshments – and Arty Daughter was delighted because they had a graphic novels section. And yes, she had bought some the week before (in Scarthin Books – see On Holiday in a Bookshop Part One) but she reads them very, very quickly….sigh. And once again, helpful staff. Is it just running a bookshop that does that, d'you think, or is it the fact that they're not preoccupied with trying to sell you lottery scratchcards and giant bars of chocolate at bargain prices…?
Next time we venture to Hay-on-Wye 😉