I've not blogged for ages. This is naughty. Life has been busy. And talking of things not done –
I've not really been into the competition-entering Thang this past year.  2010, as some of you  know, was very busy and stressful.
I did try. I abandoned a few stories that ran out of time (one soooo near to completion that I'll send it elsewhere, soon). But then, almost on a whim, I entered a poetry competition.  Again. Even though I am Not A Poet – as I have explained to my OU tutor, the witty and wonderful Caron Freeborn. (Particularly wonderful today as she has granted me an extension for my assignment – backache has me doing the Womble Walk if I sit for more than a few minutes).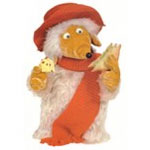 The competition? Writers' News, August. The brief? The theme: Generation Gap.
So I played for a bit with words, which is how I approach poetry. (To be honest, approach is too strong a word. I go for what sounds good. It's about as technical as spreading jam.)
And lo and behold, today February's WN catapaults through my door (yes, catapaults – my postie is very enthuisiastic – hello Phil), and I flick through the pages to discover that…
once again…
I have been shortlisted.
Now I know what you're thinking. I should be doing the Happy Dance.
Can't. Bad Back, you know.
But seriously, I am partly doing the Happy Dance, yet there's a little part of me that's whispering…
shortlisted Again…I should be delighted…but wouldn't it be nice to, ahem…win?
Or even be runner-up?
Wouldn't one win be more heartening, more impressive to editors, agents & the literati in general, than four shortlistings?
So tell me – d'you see my point, or am I just an ungrateful whinger?
Oh – and just to make up for no posts for ages, straight after I post this one, I shall dip into my drafts and drag out one that needs to see the light of day.
Need to stand up. Maximum sit-down exceeded. Womble walk, here we come.